FATHER'S HOUSE CASA DEL PADRE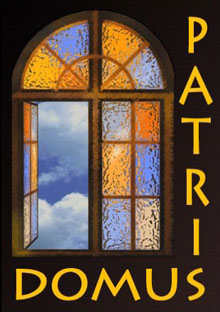 Why was "The Father's House" founded?
The cultural and educational Foundation "The Father's House" was founded in 2001 in order to contribute to a larger knowledge in Western Countries of culture, traditions, and spiritual and religious life in Russia. To get this aim, since the beginning the international team of Father's House collected a large quantity of documents, photographs, interviews, audio and video materials - mainly historical documentaries and movies.
In the meantime Father's House built up a network of experts to give a sound scientific evidence to the elaboration of documentaries and of short films, realised thanks to the enthusiast participation of authors and film directors finally put in a position to realize films on values and positive heroes .
Thanks to these particular experiences and capabilities, Father's House was able to produce documentary films about the cultural and historical background, the spiritual traditions, and faith's evidences in Russia, acknowledged not only in Russia but also in Western Countries.
Domus Patris is the production Studio operating on behalf of the Foundation "The Father's House", and we can mention both names as a unique production entity and team.

The international dimension
Since the beginning the international dimension was a key dimension in the Founders' minds, and the early discussions on the initiative were made by Italian, Polish, Mexican, Spanish and Russian people. We can say that many people and TV channels of Russia and several other countries contributed to the project, giving it a real international dimension. A very close relationship still exists with the Italian TV Studio PATER TV and the little Spanish TV channel HM Televisión.
Domus Patris is engaged in a wide range of collaborative activities, ranging from the search for true stories and various forms of documentation to film production, from supporting religious and cultural activities to educational materials and post-production. We do like new contributions from new collaborators!
Father's House team combines a deep knowledge of Russian realities with the best traditions of Russian documentary cinema and with Western quality control and organization to transform a unique archive into successful documentaries, telling the truth to new generations worldwide. Documentaries are mainly aimed at TV Channels and DVD distribution, as Home Videos.

An independent Production Studio
The activity of the Foundation focuses on the study of relevant historical events, on famous persons or common people of any social conditions, on Russian Christians of different confessions whose spiritual and personal history is worth knowing. From relevant historical events to the daily life of common people, from original images of last century to the interviews of eye witnesses, Father's House – Domus Patris production supports by documentary evidence the real dimension of life in soviet times, having truth as its mission.
Domus Patris is a fully independent Studio, acts thanks to private grants and to the availability of equipment and facilities from private persons. The Studio is equipped for managing the whole production process, from the planning phase up to the end product. The equipment involves broadcasting digital cameras, a non-linear post-production station, and a sound-recording room connected to the editing station for films and DVDs.
A Strategy of co-operation
Domus Patris strategy - and daily attitude – is to welcome all contributions, to be open towards all professional help in order to succeed in bringing to light an unknown image of Russia, made by common people who were able to live in a fully human-conscious state of mind in a time when freedom of speech and thought were violently banned.
Many people and institutions helped us to prepare scripts and shoot the films. The Studites Lavra in Lvov, the Zosimova Pustyn' Hermitage, the Vysokopetrovsky Monastery in Moscow, the Assumptionists' Monastery in Rome are some examples of that invaluable help.
Film directors and script writers collaborated enthusiastically since the beginning, bringing their different personal experiences and sometimes also their personal painful life experiences or those experienced by friends or acquaintances.
During the shooting of films in the former Soviet Union, we met and then actively collaborated with major production centres and TV channels, such as the First Channel of Armenian TV in Jerevan and the Emmanuel Studio in Kiev, Ukraine.
We are grateful to everybody who has collaborated with us, we thank them warmly and we hope to work with them again very soon, with the chance of finding new forms of collaboration, too…
HAUS DES VATERS ОТЧИЙ ДОМ


The collection of unique documents
The basic idea that drove to the foundation of "The Father's House" was the consciousness that a precious heritage of memories of a heroic faith, preserved throughout merciless persecution and repression, was at risk, since the Russian society is changing very rapidly and many of the believers who suffered prison, concentration camps and exile are now old. Since the beginning the Foundation collected all useful historical documents, photos, movies, cassettes and other authentic documents almost unknown up to now for giving a real and truth perspective of life and society in Soviet Russia.
In eight years time, the archive has grown to a significant dimension: up to now in Domus Patris archive are inserted about 130,000 video clips and approximately 10,000 photographs, images and paintings, that is about 400 hours of video materials and over 100 DVCAMs of original documents. The number is growing daily, since the entire archiving process is not yet concluded and new material is always added to the archive (derived from reportages, de velopment of new projects, grant of private shootings or photographs, etc.).
Unique interviews
Since the beginning, the Foundation made a search of witnesses of those years, and had the opportunity to interview many of the so called "Children of GULAG", thanks to the Association "Renaissance" and its director Semen Vilensky. But it would not have been possible to accomplish our projects without the valuable and active collaboration of many other organizations and companies, from the International Foundation "Memorial" and its President Arseny Roginsky to the cultural circle "Russia Cristiana", from the Aleksandr Men Foundation to the Sakarov Foundation, as well as numerous historians, experts and ordinary people simply interested in this issue. All of them were very helpful not only thanks to their contributions as witnesses but also for their suggestions and support in providing useful materials to produce our films.
Thanks to our contacts with organizations linked to the Gulag's world and to the survivors, Father's House went on shooting many hours of interviews with witnesses, experts, protagonists. We are proud to say that we have a unique set of interviews on all aspects of the dark period: a deep and direct insight into personal experiences and into human soul during soviet regime.
Documentaries Production
The main task of the Father's House is to produce documentaries and multimedia products based on said documents for TV Channels, Educational Institutions, and Editors. There is an urgent need to discover a world that most people know only through the distort means of a massive propaganda.
Domus Patris can propose now 16 documentaries - duration about 26' - in the English and Russian version, and some of them are already available in French and in German. It can prepare on request the dubbing in other languages, being Moscow a cosmopolitan city there are actors of many nations we can utilize fir dubbing.
Our team developed also 2 more formats of short films, the first one is related to the Witnesses, based on the more than 40 interviews realized with the so called 'Children of the GULAG' – people whose parents were imprisoned as 'enemies of the people' or who were imprisoned themselves in a prison camp during the soviet period. The second format is focused on some thematic aspect about life in U.S.S.R. In this case the audience can listen to an old soviet activist – having a very positive vision of the soviet regime, as many old people in Russia nowadays – and the voice off explaining the alternative point of view and also the current situation: This format was conceived as an opportunity of organizing a program debating the post–communist society and its values.
The short films proposed are just an example of what could be produced from this unique documentation, some good starting points for thematic and documentary films, talk shows, cultural programmes on history, religion or social and actual political debates...
Information about films
Memories, if not captured on film, become more and more blurred over the years. That's why Father's House took advantage of the occasion to interview those who really experienced the horrors of the Soviet regime either on their own skin or through experiences made by their relatives. About 50 hours of material of these "Children of the Gulag" are available in our archive for further development, and just a very small part is presented in the short films mentioned.
For a deeper comprehension of the documentary contents, biographies of protagonists and articles about the historical background are inserted in the general section, particularly in FILM CLIPS. But if you need anything more adapted to your programmes, we can prepare specific texts to broaden the presentation thanks to our network of experts.